Tutorial: Creating Tags, Widgets and Dashboards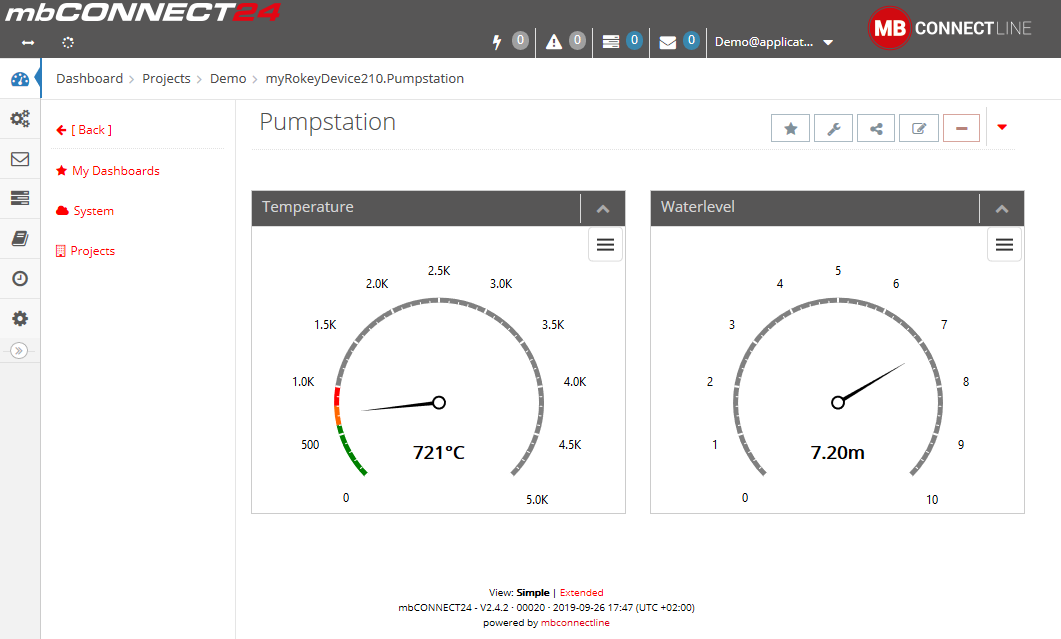 This tutorial describes how to setup Dashboards with Widgets and fill them up with data from tags.
For example, here is a dashboard that visualizes 2 data tags from an S7-1200 PLC in two gauge widgets. The data tag MW20 (temperature) is an integer value and the other data tag MD22 (water level) is a float value.

This picture shows the concept and relationship between data tags, scales and widgets.
In this example, a register MW2 with Integer value 8 is read from the PLC, scaled up from range 0 to 10 up to a range of -30 to +30 and visualized by means of a gauge widget in to a dashboard. The visualized result is 18°C.
---
3. Creating Widgets and Dashboards
4. How-to add Widgets and Dashboards
---
1. Creating Tags
This video shows how to connect to router to a PLC and read data. In this example we are communicating with an Siemens S7-1200. The mbNET router supports Rockwell Ethernet/IP PLC, any ModbusTCP and ModbusRTU device.
2. Creating Scalings
This video shows how to create and edit scaling objects. These objects are used for Widgets and Alarm to linear calculate the human-readable value from a PLC tag.
3. Creating Widgets and Dashboards
This video shows how to create widget and dashboards. Widgets are placed on dashboards and dashboards can be viewed in browser to visualize data from PLC's with the widgets.
4. How-to add Widgets and Dashboards
5. See also