Tutorial: Firmware update via the USB interface
You can update the mbNET.mini directly via the USB interface. The device then automatically recognizes the firmware saved to a connected USB stick. Pressing the Function button starts the firmware update.
---
---
1. Preparation
Go to https://downloadportal.mbconnectline.com/en/mbnetmini.html and download the latest firmware version (e.g. "mbNETmini_FW_V208.zip").
After extracting it, you will find the actual firmware file "mbnetmini.sbs" along with the "changelog.txt" and "open-source-software-licenses.txt" files.
Store the "mbnetmini.sbs" on a USB stick.


Notice

IMPORTANT: The downloaded "mbnetmini.sbs" firmware file may not be renamed and must be saved in the top-level directory of the USB drive. The USB drive must have the file format FAT!
2. Execution
When the mbNET.mini is ready for operation (LED Pwr + RDY light up), plug the USB stick into the USB port of the device. The device detects the firmware file and shows this by rapidly blinking LED Usr (flashing frequency: 3 Hz).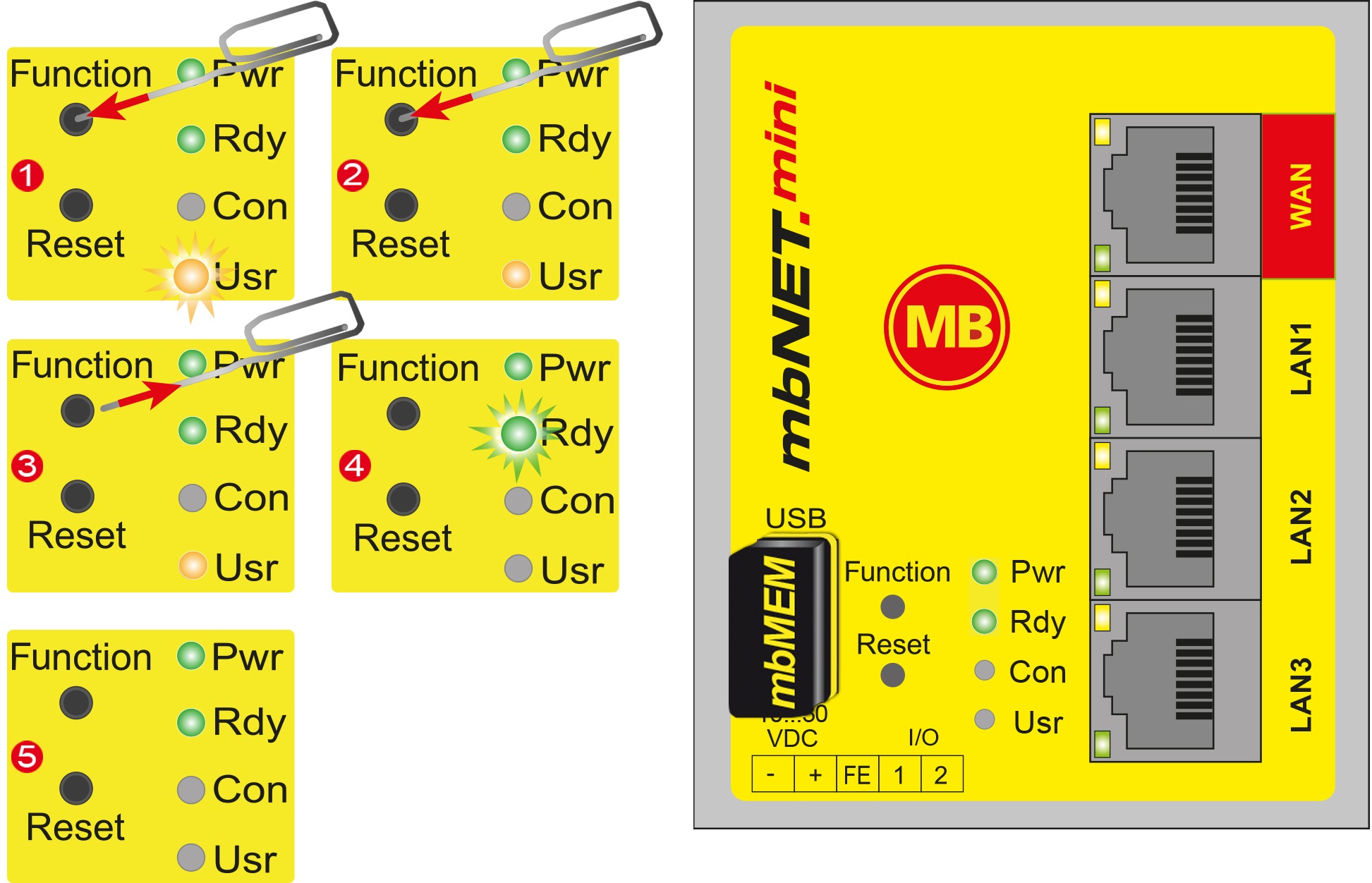 Now press, within 10 seconds, the button Function
and keep it pressed until the Usr LED lights

.
When Usr LED lights, release the button Function

.
The device afterwards is going to restart

.
When the two LED Pwr and Rdy light up,the firmware update is finished

.


Warning

IMPORTANT: During the firmware update
- do not push the Reset button
- do not turn off the power supply
- do not remove the USB drive while the update runs
The mbNET.mini is now ready for operation again and can, as usual, be used.


Notice

If there is both a firmware file (mbnetmini.sbs) and a configuration file (mbconnect24.mbn/-.mbnx), the files are recognized as follows:
1. mbnetmini.sbs => LED Usr flashes quickly (flashing frequency: 3 Hz)
2. mbconnect24.mbn/-.mbnx=> LED Usr flashes slowly (flashing frequency: 1.5 Hz)
If, for example, only the configuration file mbconnect24.mbn/-.mbnx is to be loaded, wait approx. 10-20 sec after the automatic recognition of the firmware file, until the LED Usr has started to flash slowly. Now you can carry out the procedure "Load configuration file".

In rare cases, the design of the used portable USB drive may make it unsuitable for this procedure. In this case, please use another USB drive.